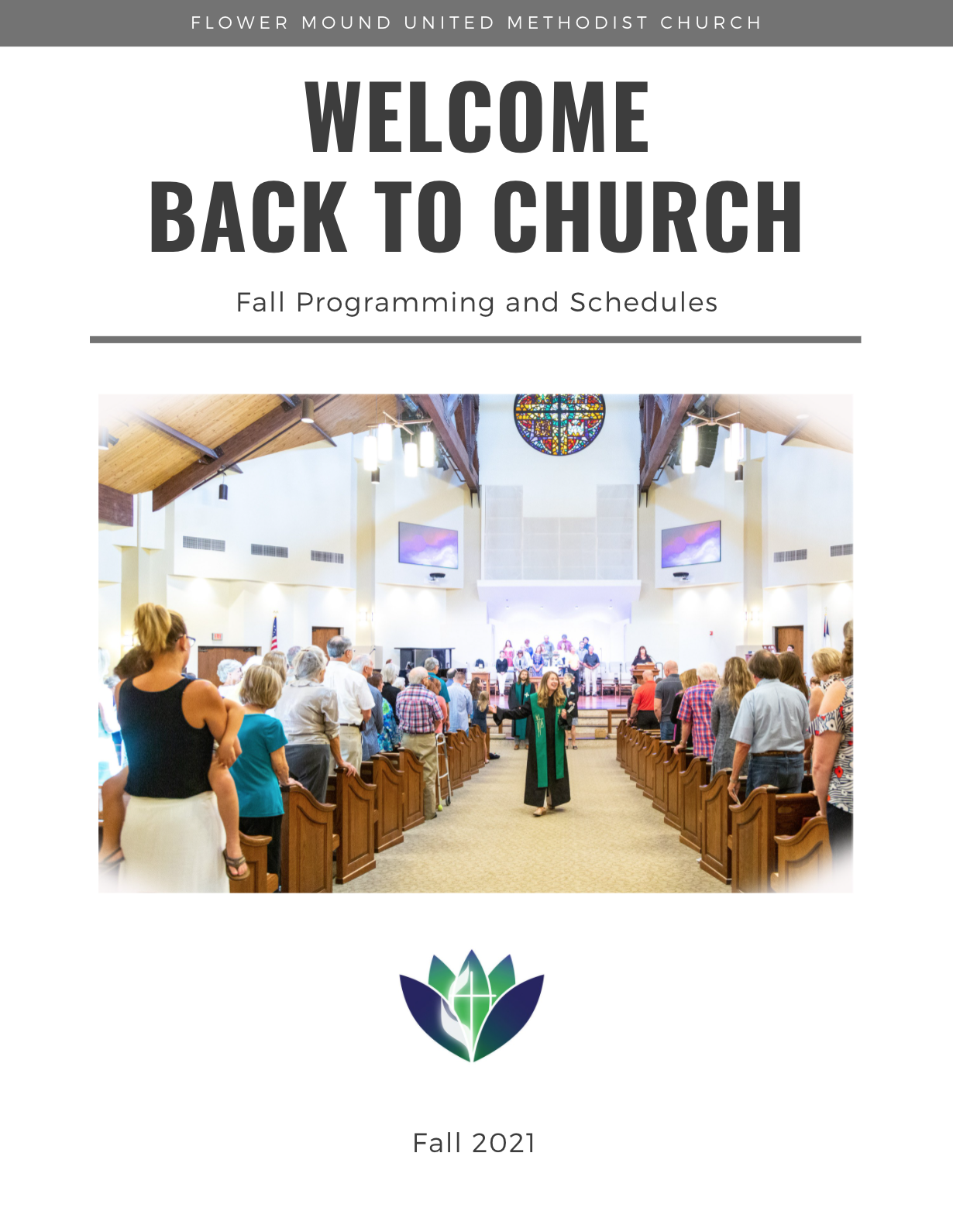 ---
---
OUr method
We define discipleship as the continual process of cultivating within ourselves the very things Jesus embodied: namely love, mercy, compassion, and justice. Cultivating these spiritual traits, we believe, can lead to spiritual transformation. But doing so requires a balanced spiritual diet. Therefore, throughout the year we offer three sign-up seasons (Winter/Spring - Summer - Fall) as opportunities for you to evaluate what is best for your soul in this season of your life. Each season, we try to offer a variety of Classes (specializing in Christian Education), Communities (opportunities to simply be in fellowship with others), and Groups (a combination of learning and studying together). Check out our Fall Discipleship Opportunities and register for a group or event that can feed your soul and fit your schedule.
---
---
Ongoing Sunday Morning Groups
Sojourners | Weekly | Sun. 10:00am | Room C4/6 | Online & In-Person
About Sojourners | One of Flower Mound UMCs longest standing Sunday School classes, this lecture and discussion based discipleship group is lead by rotation of teachers ranging from PhDs in history to church clergy to seminary students. You can expect to meet other people ranging in age from empty nesters to retirees, couples and singles alike. Each Sunday you'll receive a well prepared lecture-style devotional with the opportunity for discussion and engagement. Throughout the week, this class supports one another through shared congregational care, support, and friendships.
Connections | Weekly | Sunday 10:00a | Room C10/12 | In-Person
This Sunday School class is comprised of mostly couples ranging in age from high-school parents to empty nesters. This group decides on curriculum as the year progresses and often shares facilitator roles. It's not uncommon for the Connections class to meet beyond the church walls to share life via fellowship events.
Cornerstone | Weekly | Sunday 10:00a | Choir Room | Online & In-Person
This lecture style Sunday School class is a great place for those looking for a more educational experience. Lead by lay-member Dave Farish, you're sure to get a deep dive into theology, but a deep dive that connects with our daily lives.
Serendipity | Weekly | Sunday 10:00a | Library | In-Person Only
This Sunday School class is comprised of couples and singles, parents of young children and some retirees. Though discussion based studies you'll have the opportunity to share life and cultivate your faith through sharing your lived experiences
Young Adults | Bi-Weekly | Sunday 10:00a | C6 | In-Person Only
This Sunday School class meets weekly but also gathers occasionally for fellowship events. Welcome to all self-avowed young adults, couples and singles alike.
The "New" Sunday School Class (Confirm) | Weekly | Sunday 10:00a | C8 | In-Person Only
This relatively new Sunday school class is made up mostly of parents of younger children. But all are welcomed, especially as they dig into a Confirmation curriculum designed for parents/adults who wish to re-calibrate and re-confirm their faith. Join them as they study "Confirm".
---
---
ONGOING WEEKLY GROUPS
Q&A: Not Your Average Bible Study | Wednesday(s) 6-7p | In-person
Q&A: What's Up with Evil in the World? (Aug. 25th - Sept. 8th)
How much of your life do you believe is preordained by God and how much is a direct result of your own choices? Join us in during this Question and Answer mini-series on the question of evil in the world. where we'll ask questions about theodicy, the nature of God, and the role of human freedom and choice in our faith walk.
Q&A: Is Jesus the Only Way? (Sept. 15th - Oct. 6th)
From Heaven to Hell and everything in between this Question and Answer mini-series tackles some of the hard questions: Who is saved? Is Jesus the only way? What is heaven? and what is hell? Who's in and who's out. Ironically enough, all are welcome!
Q&A: Does the Bible Tell Me So? (Oct. 13th - Nov. 17th)
Have you ever wondered: What is the Bible? Where did it come from? How should I use it? And what if the Bible teaches something that is contrary to my experience of God? Then you're not alone and this Question & Answer mini-series is for you! Come explore the tough realities that come from reading Christianity's Holy Scriptures.
Pastor's Bible Study | Thursday 9:30a | Online Only
Another one of Flower Mound UMC's longest standing studies, this Bible study has evolved and continues to evolve over the years. Each new pastor appointed to FMUMC brings with him/her their own style of study and Biblical knowledge. More importantly, this study is a great for ANYONE looking to just stop reading scripture. Each week is stand alone topics so you can jump in and out any time.